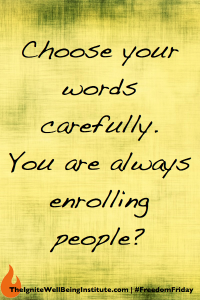 Personal musings on igniting your life from the inside out and the top down.
Every moment of every day I am enrolling someone in what I'm up to. Whether it's my pain and misery or my power and leadership, I am always enrolling someone in my story.
So are you. It's what we humans do.
You don't even realize you are doing this. You sit with a girlfriend over dinner and a glass of wine. You spend an hour talking about how you hate your job and how your boss is an unreasonable taskmaster. You think you're venting yet you are also enrolling your girlfriend in you're victimhood.
Don't get me wrong, enrollment is not a bad thing. In fact, it's the most important tool you have for creating your life. Consider how you can use enrollment for your benefit:
You can enroll your boss in giving you a promotion or a raise.
You can enroll your husband into bringing you flowers each week.
You can enroll your neighbor into helping you move furniture.
You can enroll investors into investing into your company.
You can enroll yourself into getting up early and working out.
You use enrollment to create the experience of life you desire: success, failure, celebration, commiseration, joy, pity, empathy, or sympathy. Your results begin with enrollment.
What is enrollment?
Enrollment is evoking a vision in another person such that they take action.
We create our life through intention and action. When enrolling our being-ness communicates our intention and our words are our actions.
Words are the tools of our creation.
Imagine I stop by your office with great news and with neutral tone and expression say "I have to talk to you about something." What is your reaction? Does it evoke excitement, or does it evoke fear, concern, anxiety, or dread?
Now imagine I say "I get to talk to you about something," also with neutral tone and expression. What is your reaction? Do you get curious, eager, intrigued, interested or excited?
Words are important. One word changes the listener's experience.
Words also change the speaker's experience.
Each and every word you utter matters.
Words change our world. Words enroll others into your story, into or out of what you are up to.
To paraphrase Kid President, "what are you enrolling the world in?"
{ 0 comments }